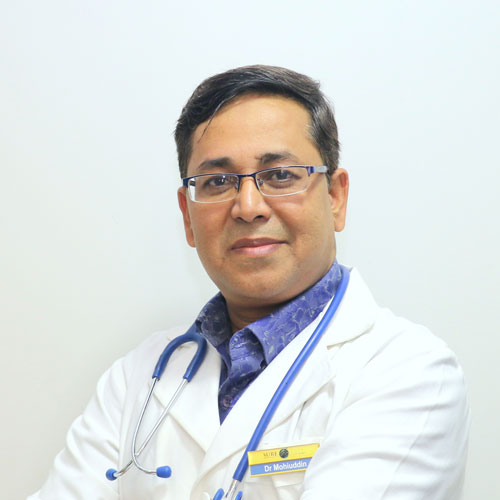 Consultant, Orthopedics & Regenerative Medicine
Trained on Orthopedic Stem Cell And PA-PRP (Australia, Thailand)
M.B.B.S. degree from Mymensingh Medical in 1999
M.S. degree on Orthopedic from NITOR in 2011
Bangabandhu Sheikh Mujib Medical College Hospital (BSMMU).
Dhaka Medical College Hospital.
Mymensingh Medical College Hospital.
NITOR Hospital Dhaka.
500 Bedded General Hospital-Mugda.
Trained in: Australia, Thailand, Malaysia & India.
Special Training: Special trained in Regenerative Medicine in Australia.
Joined Surecell Medical [BD] Ltd. In 2015
Performed over 10,000 procedures of Regenerative Medicine in Orthopedics at Surecell.
Dr. AKM Mohiuddin is honorable member of
The American Academy of Regenerative Medicine.
American Board of Regenerative Medicine.
Bangladesh Orthopedic society.
Bangladesh Medical Association.
Forum of Adipose Tissue and Stem Cell.
Ozone Forum of India.
Stem Cell and Cell Based Products Guidelines Coordinating Committee of Bangladesh.
Therapeutic Angiogenesis by stem cell in peripheral vascular disease.
Diabetic foot and non-healing wound managed by stem cell PRP and HBOT.
Avascular Necrosis of bone and nonunion of bone managed by stem cell therapy.
Stem cell therapy in Chronic Obstructive Pulmonary Disease (COPD)
Stem cell therapy in Chronic kidney disease (CKD)
Stem cell therapy in autoimmune disease.